Call for papers
A special issue of International Journal of Digital Humanities
With this special issue we aim to represent the multifariousness of digital humanities, covering topics from theoretical discussions to applied papers on digital methods in the field of East Asian studies. Potential topics include (but are not limited to): text analysis of East Asian scripts (challenges and solutions), image and visual analysis, GIS, network analysis, topic modeling, OCR and digitization, East Asian digital infrastructure development, digital libraries and archives, software development, curricular developments in East Asian digital humanities, collaborations in digital research. Both individual and co-authored papers may be submitted. Papers submitted to other journals concurrently will not be considered.
All proposals must be written in English and submitted via e-mail to the following address: ijdh.journal@gmail.com with the subject: DH and East Asia. Proposals for articles must be submitted as an abstract of between 300 and 500 words. In addition to the abstract, the submission must include a reference list (at least 5 items). All submissions are due by 15 December 2020.
The program committee will review all submissions and send out notifications of acceptance/rejection by 15 January 2021. For questions, please, send an email to ijdh.journal@gmail.com.
For further information, please click here.
Call for papers
We invite proposals from scholars and heritage professionals on any topic related to the use of web archives and curating born-digital data, among others websites, social media, etc. Proposals on all aspects of digital humanities research using and curating web archives are invited. For further information, please click here.
All submissions are due by June 1st 2020.
Submission closed
Please note that the submissions for the DH_Budapest_2018 conference are now closed. Thank you to those who has already submitted their abstracts. The acceptance notification will be sent by out 15 March  2018.
Submission deadline extension
Due to the increased interest, the proposal submission deadline for the DH_Budapest_2018 conference is extended to February 13th. Until then you can submit your papers here, or your poster/workhop proposals here. Please note that there will be no further extension to the deadline.
If you have any questions, please contact us via digihum@elte.hu.
Reminder for paper submission

Proposal submission for the DH_Budapest_2018 conference will be closed soon. You have until midnight, January 30, to submit your paper, poster, or workshop proposals.
Hurry, and submit your papers here, or your poster/workhop proposals here.
DARIAH CENTRAL EUROPEAN HUB Workshop
The Centre for Digital Humanities at ELTE, with the support of DARIAH, initiates a Central European cooperation and organises a public workshop on November 10, 2017, between 10:00-17:00 at the ELTE BTK Institute of History, the Szekfű Gyula Library (1088 Budapest, Múzeum krt. 6-8.)
(Read more…)
DARIAH-EU initiative at NTNU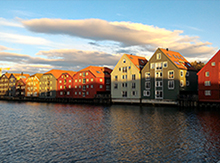 Digital Research Infrastructure for the Arts and Humanities (DARIAH) held an open event at NTNU (Norwegian University of Science and Technology), Trondheim on 24 October 2017. Representing the ELTE DH Centre, Gabor Palko introduced the projects of the ELTE DH Centre and the plans of the DARIAH Central European Hub for regional cooperation, invited the representatives of the DARIAH Nordic Hub to the DARIAH event that is being held on 10 November 2017 in Budapest where the representatives of the digital humanities institutes of the Visegrad 4 and Austria will give open presentations.

For more information: https://www.ntnu.edu/dariah